Curriculum Vitae Ruchama Hoed
2016
Wall Diamonds exhibition 14 works, 6 antiquarian galleries,Lucca (IT)
Arte al Feminile "la Città Visibile, Group exhibition, Grosseto (IT)
'Particles of Universe' (ongoing sculptural developments)
'Transparent Restaurant' project, Lucca (IT)
'The Art of Grasping' Poster performance at the Intl. Symposium Gesture Studies, Sorbonne Nouvelle, Paris
2015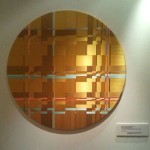 'Golden Space of Encounter' 80 cm ø acquired by Esparc Salon, Amsterdam
'Sacre Coeur' 60 cm ø Acquired by Duo Ping Pong Salon, Amsterdam
'Perspectives' 45 x 75 cm, Salon San Gennaro (LU), IT
'Tramonto Porto Venere' 80 cm ø Salon San Gennaro, (LU), IT
'Rubinio' 70 cm ø handwoven artwork for Robin Piets, Amsterdam
2014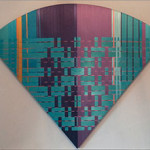 Group expo Folkestone Triennial 2014 – 4 works@ Cursley & Bond Gallery, Folkestone, UK
Performance'Rainbow the knitting mermaid', Folkestone Triennial '14
'Italian Diamond' (90×90 cm) Salon San Gennaro, (LU), IT
Weaving Masterclass (6wk)- Antiche Tessiture Luccese, Lucia Nesi Giardina, deepening craft& skill

2013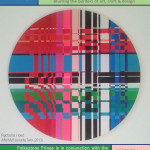 ' Space of Encounter – II' Solo exhibition @ Coco's exhibition Space, Amsterdam
' Space of Encounter – I' Solo Exhibition @ Funen Art Gallery, Amsterdam
'Golden- Space of Encounter' Ongoing exhibition @ ESPARC jewellery Gallery, Amsterdam
2012

'Elements of Surprise' 2 woven works in Group exhibition, Core Gallery London, UK
'Pipi = You & Me Being Free' Artwork ode for the young people of 'Doenersdreef Zorg' Almere
'Space of Encounter' LL (satin handwoven on wood ø 90 cm) Alessandro Beauty Salon, London
'Spaces of Encounter' sitespecific Art installation for IJ-Salon– Muziekgebouw aan 't IJ Amsterdam
'cCOLOURolours mMAKEake tTHEhe wWORLDorld gGOo 'rROUNDound' (12 woven pieces)
Site specific textile installation for interior of office building 'Doenersdreef Zorg' Almere
'You=Me' / Yin-Yang pearls (satin, steel & wood 70cm) commissioned by E.J. Hertogs, Amsterdam
'The Road Always Leads Back To You' Mixed media portrait for my mother (50x80cm) (paper, thread, crystals)
'Shadow Embroidery' performance, Platform WonderTree exhibition, Hogeschool Leiden
2011

ongoing 'Poëtic interventions in daily life' Objects, creative intervention, styling, performance
'write-me-a-love-song' project
'Tenderness journal'
Embroidery wonderWall- interactive embroidery installation, Amsterdam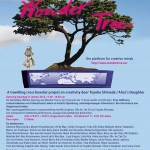 *'Peace Festival' centre Lothlorien, Foulain, FR,
'Meditazioni a Micaloni', Cork, embroidery and macramée techniques.
What do you dream, Love? interactive embroidery installation 'Openluchthotel' Fields of Wonder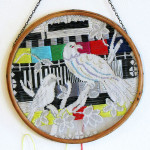 Wonder Tree 'SuperNatural' expo in 'Firma van 3'Galerie, Gouda
'Shadow-embroidery' performance (action-embroidery)
'If you think…think again…' weaving on vintage lace
'Birds-Test screen' embroidery I & II
'Portraits of One-Self' textile mosaic mural
2010


'Gain Simplicity' installation Advent Wonder Tree St. OpenMakers Leiden
'Shadow embroidery' interactive performance
'Miniature Knitting Meditation' workshop
'Nice to meet Two' installation
'Me & my shadow dance' video-performance group expo 'Wonder Tree'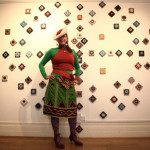 'Portraits-of-One-SelfIV' mandala installation Group expo, Amsterdam
'Portraits-of-One-Self III' mandala installation, permanent expo, London
'Love(b)All- from single thread to double thread' sculpture'Quinta do Mogador', Sintra, PT
'Pas-de-Chapeaux' i.c.w. Danny Molenaar, Parade& dance performance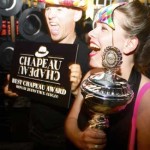 performance. Concept, hat-design & performance
'Best Chapeau Award 2010' hat designer Jimmy Woo 'Chapeau Chapeau', Amsterdam Fashion Week
DesignWeek Sofia 'Do a plastic bag' i.s.m. KesselsKramer, Sofia,BG
'Pas-de-Paix' dance-performance i.c.w. Danny Molenaar for 'Masterpeace'launch
'MadHoed' hat Esconditedite 'Madhatter' hat-exhibition, Kinepolis Cinema, Madrid, ES
DODO – Dansgroep 'SYFY project', dancer/performer for LevendLijf, Utrecht/Amsterdam
GWA – Grafisch Werkcentrum, Amsterdam, screenprinting workshops
Textiles (screen)Printing, design & techniques, Morley College, Textile Foundation course London

2009


'Pas-de-Crystal' dance/performance-video i.c.w. Danny Molenaar
'Globalise Love' – Meditations on repair of a globe& hat repair-design, Platform 21, Amsterdam
'Justin Sweets & Caramel Miranda' cake decorating performance London
Sugar craft performance, concept and execution i.c.w. Shane Waltener
'Hoed-performance' poetic intervention in daily life i.c.w. Jeroen Aarts, Royal Ascot Horse races.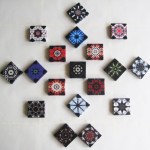 'Rainbow' the knitting mermaid' performance, South Bank, ThamesWalk, London, Brighton
'Jester Hat' -designer, The Art of Contemporary Millinery' exhibition by the HAT-magazine, London Menier Chocolate factory
'Besame Mucho' mandala mosaic installation, commissioned by Roser Malet, Barcelona
'Kick Art Salon' London (Experimental Artists Salon), London
'Portraits of One-Self II' mandala wall mosaic & video installation
'YAmorYAmour' commissioned by Chris Tielman, Lisse
Concept & creation of woven wall sculpture
2008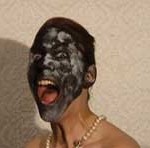 'OHMmm' video-performance installation
'Portraits of One-Self I' mandala textile installation Goldsmiths Textiles Degree Show, London
'Caramel Miranda & Justin Sweets' Cake-decorating performance i.c.w. Shane Waltener. Space Station 65 Gallery, London, curated by Marc McGowan
'I Like it A lot' en 'Mask Drops', Performance-video installations. 'Wonderful Wellbeing', exhibition, Together Gallery, London
'I Like it A lot' en 'Mask Drops', Performance-video installations. 'LadyFest' exhibition, Goldsmiths University Gallery, London